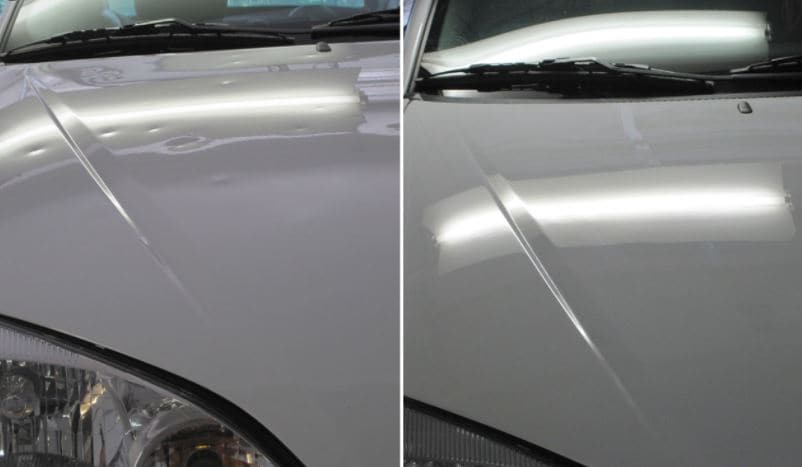 What is hail damage?
Hail (or hailstones) can leave noticeable pits and dents in your car's metal surfaces. Whereas, larger chunks can crack your windshield and cause some serious damage. Fortunately, the Patrick Auto Body and Glass Repair Shops have the capabilities to cost-effectively fix most vehicles even after they've suffered extensive or minimal hail damage.
What should I do if my car has hail damage?
When your car has suffered hail damage, the chunks of hail are typically bigger than pea-sized. When these bits hit your car, they can leave dimples similar to the look of a golf ball. If this is the case, you might be able to get paintless dent repair for your vehicle. Fortunately, most hail damage can be fixed simply with using
Paintless Dent Repair
(or PDR), but there is definitely some damage that could potentially occur that will require official collision repair.
If you're unsure about how extensive the hail damage is on your vehicle, you can simply call us and our professional estimator will walk you through a list of simple questions to determine how bad the damage is, or they will encourage you to come in for a free estimate.
If you have hail or storm damage to your vehicle, be sure to go to the collision center you can trust. That's why you should choose Patrick Auto Body & Collision, located within the Chicagoland area, in Schaumburg and Naperville, IL. We will repair your vehicle and get it looking like new.
Schaumburg Collision Center
| | |
| --- | --- |
|      Monday | 8:00 AM - 6:00 PM  |
|      Tuesday | 8:00 AM - 6:00 PM  |
|      Wednesday | 8:00 AM - 6:00 PM  |
|      Thursday | 8:00 AM - 6:00 PM  |
|      Friday | 8:00 AM - 6:00 PM  |
|      Saturday | Closed  |
|      Sunday | Closed |
Naperville Collision Center
Hours
| | |
| --- | --- |
|      Monday |  7:30 AM - 4:30 PM |
|      Tuesday |  7:30 AM - 4:30 PM |
|      Wednesday |  7:30 AM - 4:30 PM |
|      Thursday |  7:30 AM - 4:30 PM |
|      Friday |  7:30 AM - 4:30 PM |
|      Saturday | Closed  |
|      Sunday | Closed  |
Request an Estimate in Naperville, IL
Request an Estimate in Schaumburg, IL
Make an Inquiry
* Indicates a required field